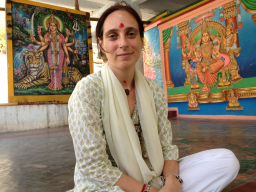 Kraftvolle Seelenerfahrungen-spezielles Yantra für Astralerlebnisse
In Trainings & Workshops > Spiritual Workshops
Video price:

27.50 € incl. VAT

Video duration:

1 hour and 54 minutes

Language:

German
A recording of this webinar is available.
Lange Angekündigt und endlich ist es soweit!

Aktiviere die Kraft in deinen Chakren durch das kraftvolle Jeevan-Yantra um bewusste Astralreisen zu erleben.
Das Jeevan Yantra ist min. 3000 Jahre alt und wird in Indien an wenige spirituell suchende weitergeben.

Dieses Yantra ist sehr kraftvoll und dennoch leicht zu erlernen. In diesem Webinar gebe ich das Wissen und die Zeichnung des Yantras an die Teilnehmer weiter.

(Yantren sind Zeichnungen, Skizzen, Darstellungen heiliger Geometrie. Yantren werden für die unterschiedlichsten Lebenssituationen erstellt um hohe spirituelle Schwingungen anzuziehen.)

Außerkörperliche Erfahrungen, abgekürzt mit AKE, sind schon seit einiger Zeit eine Form der Bewusstseinserweiterung, die auch in das Interesse der Wissenschaft gerückt ist. Bereits seit einigen Jahrzehnten untersuchen Forscher mögliche Erklärungen für Out Of Body Erfahrungen beziehungsweise Out of Body Experience (OBE) – wie es im englischen Original heißt.

Das Phänomen, dass sich die Seele vom Körper lösen kann und auf einer höheren Bewusstseinsebene eigene Erfahrungen und Erkenntnisse sammelt, fasziniert die Menschen auf der ganzen Welt.

Mitglieder des Astralreisenclubs erhalten einen kostenfreien Zugang für diese Webinar.

http://astralreisenlernen.de/der-club

Dies Webinar wird auf Video aufgezeichnet, so das jeder Teilnehmer auch später noch die Aufzeichung ansehen kann und keiner das Webinar verpasst.