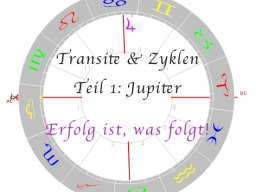 Zyklen und Transite - Jupiter - Erfolg ist, was folgt.
In Ausbildung & Workshops > Astrologie
Video price:

18.00 € incl. VAT

Video duration:

2 hours and 41 minutes

Language:

German
A recording of this webinar is available.
Videodauer: 2,5 Stunden

****************************

"Erfolg ist, was folgt."

Jupiter öffnet Türen.
Jupiter schenkt Vertrauen.
Jupiter fördert und unterstützt.
Jupiter lässt wachsen.
Jupiter bringt uns voran.
Jupiter lässt uns glauben.
Jupiter beschenkt uns.

Jupiter gilt als der Planet des Wachstums und des Glücks. Er ist auch der Planet des Glaubens und Vertrauens. Wird er seinem Ruf gerecht? Wie wirken Jupiters Transite im Leben? Was können sie hervorbringen und was nicht?

Wir schauen uns den zwölfjährigen Jupiterzyklus an und lernen Jupiter als Transitplaneten kennen. Jupiter ist gerade in den Krebs gelaufen, das Zeichen seiner Erhöhung. Warum das so ist und was das für uns bedeuten könnte, erfährst du heute ebenfalls.

Wir betrachten spannende Beispielhoroskope und verfolgen an ihnen den Zyklus Jupiters. Außerdem werfen wir einen Blick auf die Transite Jupiters durch die Häuser und was sie allgemein bedeuten können.

Bei Interesse besteht das Angebot für Folgeabende "Dein Jupiter - In Radix & Transit", wo ich auf die Teilnehmerhoroskope eingehe. Die Termine dafür sind: 30. Juli, 27. August und 2. September.