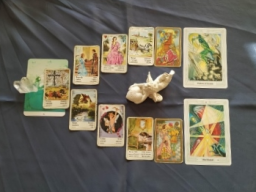 Kartenlegung "Die Entscheidungshilfe"
In Consultation > Tarot & Cartomancy
Price:

39.00 €

Number of participants:

maximum 4

Application deadline:

2 hours before the start

Language:

German
Sitzt du in der Zwickmühle oder besser gesagt zwischen zwei Stühlen? Mit dieser Legung kannst du zu mehr Klarheit in deinen Entscheidungen kommen.
Z.B. soll ich nach A oder B ziehen; soll ich an meiner Arbeitsstelle bleiben oder kündigen?

Die Legung findet NICHT im Webinarraum statt.

Sende vorab deine Frage und deine Email-Adresse. Dies kann über Sofengo Nachricht erfolgen.

Nachdem ich die Legung beendet habe, erhältst du die Auflösung schriftlich oder per Audio-Datei.

Kein passender Termin in meinem Angebot? Sende mir deinen Wunsch und ich werde deinen individuellen Termin freischalten. Den dazugehörigen Link erhältst du per Nachricht.

Ich freue mich, dich auf deinem Weg ein Stück begleiten zu dürfen.

Ich lasse jeden Teilnehmer in seiner Verantwortung.