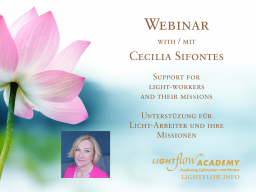 Das Jahr 2018 & Immerwährende Ausdehnung / The Year 2018 & Everlasting Expansion
In Trainings & Workshops > Spiritual Workshops
Video price:

25.00 € incl. VAT

Video duration:

2 hours and 3 minutes

Language:

German
A recording of this webinar is available.
(for english text, please scroll down) - Wie sehen die Guides das Potential des neuen Jahres? Und welche Bedeutung haben die Energien von Erzengel Michael im Projekt "Immerwährende Ausdehnung"?
Wir laden dich herzlich zu diesem Abend und freuen uns, wenn du dich uns anschliesst, um dein Licht und das Licht der Menschheit weiter zu öffnen und zu entfalten.

How see the guides the potential of ths year? And what is the part of the project from Archangel Michael about Everlasting Expansion?
We invite you to this evening and welcome you to join us when the guides continue to open and evolve your light and the light of humanity.