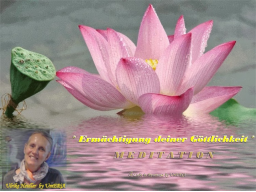 Tagesausklang - "HERZ MEDITATION "zur "Ermächtigung deiner Göttlichkeit"
In Body & Soul > Meditation
Price:

12.00 € incl. VAT

Number of participants:

maximum 30

Application deadline:

1 hour before the start

Language:

German
"Herz - Meditation" zur
"Ermächtigung DEINER Göttlichkeit"


Lasse den "Alltag" hinter dir und trete ein
in die Welt der "Schöpferischen Visualisierung".

Zuerst Reinigen wir uns energetisch und lösen
die Energieräuber des Tages auf.

Danach gehen wir Gemeinsam auf die Reise bis hin zu unserer innersten Göttlichkeit.

Der größte Fehler der Menschheit besteht darin, die "Probleme des Lebens" auf der Ebene ihrer Entstehung anzugehen. Dieses führt uns jedoch zu Schwierigkeiten, Kämpfen und ständiger Frustration.

Die Lösung besteht darin, "ES" von einer höheren Ebene aus zu betrachten. Was auch immer das Problem sein mag, die Lösung und letztendliche Heilung kommt aus diesem Bereich.

So betreten wir Gemeinsam unser "Göttliches Herz" und schaffen durch Gedanken der Liebe unser ureigenes Potential zur Entfaltung unserer Schöpferkräfte.


Ich freue mich auf unsere Begegnung.....

Alles Liebe Ulrike
UmERiA
(Ulrike mir Erzengel Rafael in Achtsamkeit)


Eine Schöpferische Visualisierung nach Yasmuheen.