Foundation for Healing Arts - Praxis UmERiA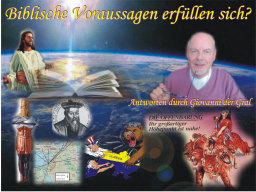 Im Brennpunkt der Neuen Zeit!!!
In Consultation > Other
Language:

German

Video price:

3.00 €

Video duration:

1 hour and 29 minutes
A recording of this webinar is available.
Im Brennpunkt der Neuen Zeit!!!
Hier der Link zum Video:
https://youtu.be/TJitBF36LsM
und der LINK zur NOTFALLAUSRÜSTUNG:
http://www.foundationforhealingarts.de/informationen-ueber-das-event.html

"Biblische Voraussagen erfüllen sich?
ONLINEDISKUSSION der NEUEN ZEIT
...nimm dir die Zeit, es lohnt sich!
Beantwortung vieler deiner Fragen...
vielleicht gerade HIER in diesem Webinar der NEUEN ZEIT durch
Gastgeber Giovanni der Gral
Heiler u. Visionär. und als Co-Moderator Michael Purschke mit den Gästen
Nelli König und Ulrike Heidler.