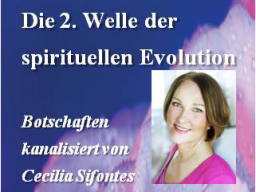 Die 2. Welle der spirituellen Entwicklung (Vertiefung 2) - The 2nd wave of spiritual evolution (Deepening 2)
In Trainings & Workshops > Spiritual Workshops
Video price:

25.00 € incl. VAT

Video duration:

2 hours and 17 minutes

Language:

German
A recording of this webinar is available.
Fortsetzung: Teil 3 / Part 3 (English below)
Meine geistigen Führer haben mir letztens erzählt, dass wir uns nach mehr als 30 Jahren der ersten Welle spiritueller Entwicklung und globalen Erwachens jetzt in die zweite Welle bewegen. Spirituelle Botschaften und Channelings haben während der letzten 30-40 Jahre immer berichtet, dass unsere Evolution in drei Wellen stattfinden würde. Jetzt befinden wir uns in der zweiten Welle, die uns bis 2040 beeinflussen wird. Diese zweite Welle hat bereits gegen Ende 2012 begonnen und war seither nicht wirklich aktiv. Erst jetzt, da sie in Stärke zunimmt, beginnt ihr Einfluss zu wachsen.
Du bist zu diesem Webinar herzlich eingeladen. Hör dir an, was die geistige Welt über die kommende Entwicklung auf der Erde mitzuteilen hat.

My spiritual guides told me recently that after more than 30 years in the first wave of spiritual evolution and global awakening we have now moved into the second one. Spiritual messages and channelings over the last 30-40 years have often said that our evolution would take place in 3 waves. And now we are in the second one that will keep influencing us until 2040. This second wave actually began towards the end of 2012 and has not really been active until now, when it grows in strength.
You are invited to join this webinar and listen to what the spiritual world has to say about the coming evolution on Earth.