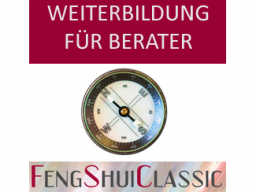 Feng Shui Welche Methode ist richtig?
In Ausbildung & Workshops > Feng Shui
Video price:

15.00 € incl. VAT

Video duration:

1 hour and 7 minutes

Language:

German
A recording of this webinar is available.
Feng Shui bietet eine Fülle an Methoden zur Auswertung und Beratung von privaten und geschäftlichen Räumen an. Doch wann soll welche Methode angewendet werden? Welche ist richtig? Kann ein ungeschickter Mix an Methoden vielleicht sogar schaden?
Mit den Fragen sind Sie als Feng-Shui-BeraterIn stets konfrontiert. Die Antwort zu finden ist nicht einfach. Doch Sie wollen sicher Ihre Kunden immer bestens beraten und eine richtige Empfehlung aussprechen.
Nutzen Sie das Webinar zur Vertiefung des Wissens über die diversen Feng-Shui-Methoden, ihren Ursprung und Anwendung. Sie werden erfahren, was entscheidet darüber, welche Methode die richtige ist und wie Sie es in der Praxis herausfinden.
Um einen effektiven Nutzen aus dem Webinar zu haben, sind gute Grundlagenkenntnisse des Feng Shui erforderlich und ein wenig Beratungspraxis empfehlenswert.