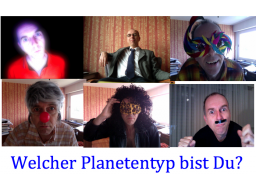 Welcher Planetentyp bist Du?
In Trainings & Workshops > Astrology
Language:

German

Video price:

6.00 € incl. VAT

Video duration:

1 hour and 41 minutes
A recording of this webinar is available.
Mache den Typentest! Mit welcher inneren Planetenkraft identifizierst Du Dich am meisten? Geeignet für Menschen mit und ohne Astrologie-Kenntnisse.

In der Astrologie arbeitet man mit zehn Wesenskräften, man könnte auch sagen: inneren Persönlichkeitsanteilen. Zum Beispiel dem inneren Krieger oder dem inneren Kind. Jeder Mensch beherbergt in sich diese Wesensanteile; wir kennen sie als verschiedenartige Bedürfnisse - zum Beispiel das Bedürfnis nach Durchsetzung oder das Bedürfnis nach Geborgenheit.

Doch nicht alle Bedürfnisse / Planetenkräfte sind gleich stark. Je nach persönlichen Erfahrungen und Vorlieben, je nach Charakter und auch nach Lebensabschnitt, steht mal mehr die eine oder die andere Kraft im Vordergrund. Mit dem Planetentypen-Test findest Du heraus, mit welcher Kraft Du Dich derzeit am meisten identifizierst.

Im Webinar dazu erfährst Du, was es mit dem jeweiligen Planeten auf sich hat:
- Welche Ressourcen liegen in dieser Kraft?
- Was kannst Du damit nutzbringend anfangen?
- Wo behindert Dich eine Wahl?
- Wie gestaltest Du Deine Planetenvorliebe am besten?
- Was tut Dir gut?

Und so geht es:
1. Melde Dich zum Webinar an bzw. klicke "Video kaufen".
2. Nach der Anmeldungen / dem Kauf siehst Du unterhalb des Buttons "Video ansehen" den Reiter "Dateien" - bitte klicke darauf.
3. Lade das Dokument "Planetentypentest" herunter und drucke es aus.
4. Nimm Dir Zeit, die Testfragen zu beantworten. Das kann auch mehrere Tage dauern - ganz wie Du magst. Einmal gekauft kannst Du das Video dazu auch erst später und dann immer wieder ansehen. Es besteht also kein Grund zur Eile. Wie der Test funktioniert, wird in dem Dokument genau erläutert.
5. Ebenfalls zum Download steht ein Auswertungsbogen bereit. Er erläutert Dir, wie Du die Testfragen sortierst und bewertest. Du kannst die Auswertung auch vor dem Anschauen des Videos durchführen. Es ist aber auch möglich, sich erst alle Planetentypen erklären zu lassen und die Auswertung hinterher vorzunehmen. Ganz wie Du magst!

Viel Vergnügen!