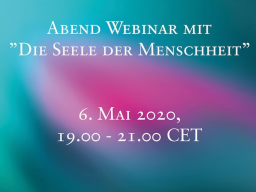 Die Seele der Menschheit - Soul of Humanity (II)
In Ausbildung & Workshops > Energiearbeit
Video price:

35.00 € incl. VAT

Video duration:

2 hours and 14 minutes

Language:

German
A recording of this webinar is available.
(eine freistehende Fortsetzung von Teil 1)
Die Seele der Menschheit wird uns mehr über ihre Pläne für uns und das Jahr der Heilung präsentieren und dich ihre Energien spüren lassen. Lass dich zu ihrer wunderbaren Präsenz anheben und sieh dir die Welt mit neuen Augen an.
- - - - - - -

(an independent continuation of part I)
The Soul of Humanity will tell us more about her plans in this year of healing. Enjoy her wonderful energies and transmissions while being uplifted to her wonderful presence and see the world with new eyes.

- - - - - - -
Am Sonntag 10. Mai gibt es auch ein 1-Tages-Online Seminar mit der Seele der Menschheit.

On Sunday May 10th there will be a One-Day Online-Seminar with the Soul of Humanity.