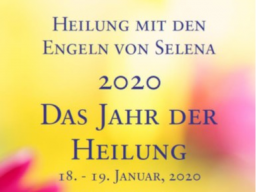 2020: Das Jahr der Heilung & der Freude - The Year of Healing & Joy
In Trainings & Workshops > Energetic Consultation
Video price:

390.00 € incl. VAT

Video duration:

9 hours and 45 minutes

Language:

German
A recording of this webinar is available.
(For english text please scroll down)
Willkommen zu einem neuen Jahr der Freude und der Heilung. Ein Jahr, für das wir viele Veränderungen in den Energien um die Erde und den Lichtarbeitern voraussehen. Die galaktischen Einflüsse werden fortgesetzt zur Erde strömen und dir wird während des gesamten Jahres 2020 Unterstützung von vielen neuen Heilengeln und Lichtwesen angeboten werden. Es gibt also vieles, auf das du dich freuen kannst und vieles, auf das du aufmerksam sein solltest.

Allen Lichtarbeitern wird eine kollektive und individuelle Wahl vorgelegt werden, wohin es als nächstes geht. Denn wir sind diejenigen, welche entscheiden, wieviel Licht wir hereinbringen und was wir als Wirklichkeit auf der Erde sehen möchten. Wir können dem Weg des höchsten Lichts folgen, oder dort bleiben, wo wir gerade sind. Egal wie sie aussehen mag, so ist diese Entscheidung in sich wichtig, da sie unsere Energien während der immensen Energieveränderungen des Jahres 2020 klar halten wird, anstatt unsere Energien aufzulösen. Dies wird unsere Pfade offen und freudvoll halten.

Während unseres Webseminars werden wir mehr hierzu erklären, sowohl über die vielen Energieveränderungen, als auch darüber, wie du in dieses Jahr der Heilung mehr Freude bringen kannst. Du bist herzlich eingeladen, dich uns anzuschliessen.

- - - - - - - -

Welcome to the new year of joy and healing. A year in which we foresee many shifts in the energies around the Earth and the lightworkers. The galactic influences will continue to stream to the planet and you will be offered support from many new healing angels and beings of light during all of 2020. So there is much to look forward to and also much to be attentive of. A collective and individual choice will be presented to all lightworkers about where to go next. For we are the ones deciding how much light to bring in and what we would like to see as reality on the Earth.

We can follow the path to the highest light or remain where we are at. Either way the choice itself is important for it will keep our energies clear during the immense energy shifts of 2020 rather than disintegrating them and it will keep our paths open and joyful.

We will explain more about this, the many energy shifts and how you can bring in more joy in this year of healing during our web-seminar. Welcome to join us.