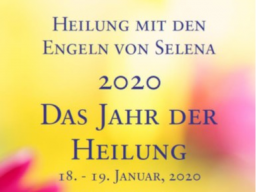 2020: Das Jahr der Heilung & der Freude - The Year of Healing & Joy
In Ausbildung & Workshops > Energiearbeit
Video price:

390.00 € incl. VAT

Video duration:

9 hours and 45 minutes

Language:

German
A recording of this webinar is available.
(Cecilia channels in English with German translation. For english text please scroll down)

Bewege dich leicht durch die Veränderungen in 2020 

2020 ist das Jahr der Heilung und beinhaltet eine grosse Menge an raschen Veränderungen. In diesem Webinar wirst du Techniken von Heilengeln erlernen, wie du dich mit Leichtigkeit durch Veränderungen bewegst und die neue Kristalldimension erkundest, welche sich 2020 öffnet. Die grösste Herausforderung in diesem Jahr wird es sein, stabil und auf das Licht fokussiert zu bleiben, während wir diese 10 Energieverschiebungen durchlaufen.

- - - - - - - -
Stay on top of the many energy shifts in 2020

2020 is a year with many and rapid changes. In this Webinar you will learn techniques from healing angels on how to move through the changes with ease and explore the new crystal dimension, that may open for you in 2020.


Welcome to the new year of joy and healing. A year in which we foresee many shifts in the energies around the Earth and the lightworkers. The galactic influences will continue to stream to the planet and you will be offered support from many new healing angels and beings of light during all of 2020. So there is much to look forward to and also much to be attentive of. A collective and individual choice will be presented to all lightworkers about where to go next. For we are the ones deciding how much light to bring in and what we would like to see as reality on the Earth.

We can follow the path to the highest light or remain where we are at. Either way the choice itself is important for it will keep our energies clear during the immense energy shifts of 2020 rather than disintegrating them and it will keep our paths open and joyful.

We will explain more about this, the many energy shifts and how you can bring in more joy in this year of healing during our web-seminar. Welcome to join us.