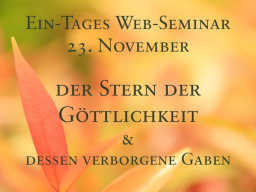 Der Stern der Göttlichkeit / The Star of Divinity
In Trainings & Workshops > Energetic Consultation
Video price:

220.00 € incl. VAT

Video duration:

5 hours and 40 minutes

Language:

German
A recording of this webinar is available.
(Please scroll down for english text)

Der Stern der Göttlichkeit & dessen verborgene Gaben.

Dieses WebSeminar ist das letzte eigenständige 1-Tages Seminar in der Serie
Das Jahr der Galaktischen Kraft.
In diesem Jahr haben sich viele neue galaktische Wesen mit der Erde verbunden, was dank den Strukturen und all unserem Licht möglich war, das wir in den vielen Jahren aufgebaut haben. Alle diese Wesen dienen der Erde mit speziellen Qualitäten, die den planetaren und individuellen Aufstiegsprozess ermöglichen und erleichtern.

An diesem Tag werden wir mehr über den Stern der Göttlichkeit und dessen Gaben erfahren, wenn es um Heilengel und anderes geht. Erzengel Michael meint, dass dies den Heilengeln die Möglichkeit gibt, effizienter durch dich und an dir zu arbeiten.

- - - - - - - - - -

The Star of Divinity & its hidden gifts.

This WebSeminar is the last in a serie of 8 independant WebSeminars about galacic power.
This year many new galactic beings have connected to the earth to support with their qualities and their light the ascension process of humanity and the earth.
In this WebSeminar Archangel Michael will work with the Star of Divinity and open its gifts so that healing angels can support us more deeply. It will also serve us to heal in a more efficient way.