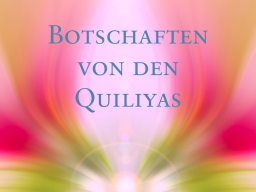 Botschaft der Quiliyas / Message from the Quiliyas
In Trainings & Workshops > Energetic Consultation
Video price:

220.00 € incl. VAT

Video duration:

5 hours and 41 minutes

Language:

German
A recording of this webinar is available.
(For english text, please scroll down)
Gemäss den Quiliyas ist 2019 für die Lichtarbeiter ein entscheidender Augenblick. Denn uns werden anhebende Energien angeboten, welche all unser Licht stärken können, welches wir in uns und um uns aufgebaut haben. Eine starke Energiewelle wird gegen Ende des Sommers zur Erde kommen, die alles spirituelle Licht und alle Energien bis zum Ende des Jahres laufend anhebend wird.
Dieses Webseminar wird für die Quiliyas einen Raum öffnen, in dem sie mehr über die vielen Gründe erklären, warum sie zu unserer Unterstützung gekommen sind und um uns die Fähigkeiten zu lehren, in einem höheren Fluss anhebender Energien zu verbleiben.

- - - - -

According to the Quiliyas, 2019 is a defining moment for the light workers where we are offered uplifting energies that can strengthen all the light we have built within us and around us. A strong wave of energy will come to the Earth at the end of summer and keep lifting energies until the end of the year.
This web-seminar will be a space for the Quilyias to explain more about the many reasons they have come to our assistance and teach us skills to stay in a higher flow of uplifting energies.