Akademie von/Academy of Damien Wynne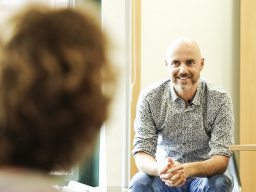 SU5_Success at All Levels / Erfolg auf allen Ebenen
In Body & Soul > Meditation
Video price:

49.00 € incl. VAT

Video duration:

2 hours and 5 minutes

Language:

English
A recording of this webinar is available.
Success at All Levels

Damien offers a seven-module webinar series on Success at All Levels. Together we will go through different stages in each webinar, building your self-confidence on a solid foundation. We will do this step-by-step with various topics, such as: how to increase your creativity, how to build your self-responsibility, how to open your gifts and talents to success, and so on ... In this series we work on all aspects of your life to help you achieve success in your daily life - at all levels.

These 7 modules build on each other, but can also be booked individually. Missed modules can also be purchased later as a video recording. If you have booked 6 of the webinars, you will receive the 7th from us for the special price of 4.90 €, which means, you only need to pay 10%. Videos that are purchased later (meaning after the live broadcast), can also be counted towards the package discount. Just contact us by e-mail (esther@damien-wynne.de) as soon as you have purchased 6 webinars so we can send you a 90% voucher for the 7th webinar.

Each webinar from 7pm to 9pm German time, 49 € each

The seven dates are:
1) Thursday, May 23rd: Overgrowing your believe-systems, clearing any blockages which are in the way of your success
2) Thursday, May 30th: Self-analysis of your limits and your potentials
3) Wednesday, June 5th: Getting in contact with your inspiration and enhancing your creativity
4) Wednesday, June 12th: Concrete structure and helpful tools
5) Thursday, June 20th: Finances, wealth and consciousness of abundance
6) Thursday, June 27th: Visualizing your projects and naming your goals
7) Thursday, July 4th: Materializing success in your daily life, harvesting the fruits

****************

Erfolg auf allen Ebenen

Damien bietet eine Sieben-Modul-Webinar-Serie zum Thema "Erfolg auf allen Ebenen" an. Wir werden in jedem Webinar zusammen durch verschiedenen Phasen gehen und auf einer soliden Grundlage Dein Selbstbewusstsein aufbauen. Wir werden dies Schritt für Schritt mit verschiedenen Themen durchführen, wie zum Beispiel: wie Du Deine Kreativität verstärken kannst, wie Du Deine Selbstverantwortung aufbauen kannst, wie du deine Gaben und Talente für den Erfolg öffnen kannst, und so weiter... In dieser Serie arbeiten wir an allen Aspekten deines Lebens, um Dich dabei zu unterstützen, den Erfolg in Deinem täglichen Leben zu verwirklichen - auf allen Ebenen.

Diese 7 Module bauen aufeinander auf, können aber auch einzeln gebucht werden.
Verpasste Module können auch später als Videoaufnahme gekauft werden. Wenn Du 6 der Webinare gebucht hast, erhältst Du das 7. von uns zum Sonderpreis von 4,90 €, D.h. du brauchst nur 10 % zahlen. Videos, die später gekauft werden (also nach der Live-Ausstrahlung), können auch auf den Paket-Rabatt angerechnet werden. Kontaktiere uns einfach per E-Mail (esther@damien-wynne.de), sobald du 6 Webinare gekauft hast, damit wir Dir einen 90 %-Gutschein für das 7. Webinar zusenden können.

Jedes Webinar von 19 bis 21 Uhr, jeweils 49 €.

Deutsche Live-Übersetzung schriftlich in der mitlaufenden Chatleiste.

Die sieben Termine sind:
1) Donnerstag, 23. Mai: Über Deine alte Glaubenssysteme hinauswachsen, Blockaden beseitigen, die Deinem Erfolg im Weg stehen
2) Donnerstag, 30. Mai: Selbstanalyse Deiner Grenzen und Deines Potentials
3) Mittwoch, 5. Juni: In Kontakt treten mit Deiner Inspiration und Steigern Deiner Kreativität
4) Mittwoch, 12. Juni: Konkrete Strukturen und hilfreiche Werkzeuge
5) Donnerstag, 20. Juni: Finanzen, Wohlstand und Fülle-Bewusstsein
6) Donnerstag, 27. Juni: Visualisieren Deiner Projekte und Benennen Deiner Ziele
7) Donnerstag, 4. Juli: Materialisierung des Erfolgs im täglichen Leben, Ernten der Früchte



---------------------
Buchhalterischer Hinweis:
---------------------
Die von Sofengo automatisch ausgestellten Rechnungen über bezahlte Webinar-Buchungen enthalten keine Mehrwertsteuer. Wenn Du eine Rechnung mit ausgewiesener Mehrwertsteuer brauchst (nur relevant für Firmenkunden) wende Dich bitte an: anne@damien-wynne.de.