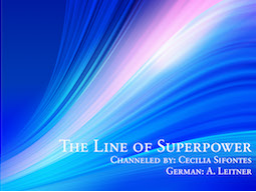 The Line of Superpower/ Die Linie der Superkraft
In Trainings & Workshops > Energetic Consultation
Video price:

220.00 € incl. VAT

Video duration:

5 hours and 48 minutes

Language:

German
A recording of this webinar is available.
(ENGLISH text below, please scroll down)

Die Linie der Superkraft wird gerade aus der Galaxie zur Erde übertragen. Wenn wir mit ihr verbunden sind, steht es uns offen uns in der Zeit voran zu bewegen und die Energien der Zukunft zu allem Leben auf der Erde zu bringen. Ihre Energien werden vielen kraftvollen Energiestrukturen als Nahrung dienen, die es bereits jetzt gibt. Im speziellen wird sie alle kristallinen Energien nähren, die aus jenem Kristallstrom heruntergeladen werden, welcher gerade an der Erde bis zum Jahr 2020 vorbeizieht.

The line of superpower is presently transmitted from the galaxy to the Earth. When we connect we are offered to move ahead of time and bring in the energies of the future to all life on Earth. Its energies will act as nourishment for many of the powerful energy structures already present at this time. It will especially nourish all the crystalline energies that will be downloaded from the crystalline stream that passes the Earth until 2020.