Akademie von/Academy of Damien Wynne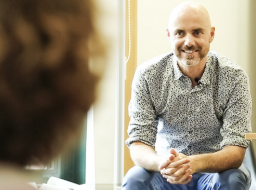 Clearing the breasts from self-hatred to self-love / Klären der Brüste von Selbsthass zu Selbstliebe
In Body & Soul > Meditation
Video price:

33.00 € incl. VAT

Video duration:

2 hours

Language:

English
A recording of this webinar is available.
This webinar is for women and men alike and is effective and important for both sexes. It's about the cellular memory, which is stored in the breast tissue and lymphatic system. Damien will support you, clarify years of low self-esteem and self-hatred from your breast tissue, to reconnect you with the acceptance of pure self-love and the acceptance of love and support from the outside, having a healthier relationship with yourself and those around you. The energetic work and clearing on the breasts, the lymph nodes and the breast tissue can also help you to enhance your femininity or masculinity.

Webinar from 7 9 pm German time

⭐ ⭐ ⭐ ⭐ ⭐

Dieses Webinar ist für Frauen und Männer gleichermaßen und für beide Geschlechter effektiv und wichtig. Es geht um die Zell-Erinnerungen, die im Brustgewebe und im Lymphsystem gespeichert sind. Damien wird Dich unterstützen, Jahre des geringen Selbstwertgefühls und Selbsthasses aus Deinem Brustgewebe klären, um Dich wieder mit der Akzeptanz reiner Selbstliebe und der Annahme von Liebe und Unterstützung von außen verbinden zu können, eine gesündere Beziehung zu Dir selbst und den Menschen in Deiner Umgebung zu bekommen. Die energetische Arbeit und Klärung an den Brüsten, den Lymphknoten und dem Brustgewebe kann dir auch helfen, Deine Weiblichkeit bzw. Männlichkeit klarer hervorzubringen.

Das Webinar wird live im mitlaufenden Chat übersetzt.


---------------------
Buchhalterischer Hinweis:
---------------------
Die von Sofengo automatisch ausgestellten Rechnungen über bezahlte Webinar-Buchungen enthalten keine Mehrwertsteuer. Wenn Du eine Rechnung mit ausgewiesener Mehrwertsteuer brauchst (nur relevant für Firmenkunden) wende Dich bitte an: anne@damien-wynne.de.