Akademie von/Academy of Damien Wynne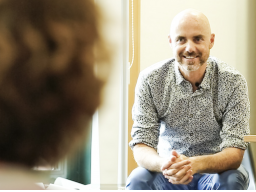 P-Webinar: Business Success as Result of Self-Confidence / Mit Selbstvertrauen zum Geschäftserfolg
In Body & Soul > Meditation
Video price:

44.00 € incl. VAT

Video duration:

2 hours

Language:

English
A recording of this webinar is available.
Damien will teach you how to work with your clients on self-confidence and self-worth.

This seminar is mainly for practitioners, everybody who is interested in this topic can also join.
Damien will be working on the moments in your life where you left your creativity, self-confidence and self-worth behind. He will support you to transform what is behind those empowerment blockages, so that you can really embody into your business and financial life. Damien will be working with you as an example to show you how you can apply that to the same topics in the work with your clients.

Webinar from 7 9 pm German time

⭐ ⭐ ⭐ ⭐ ⭐

Damien wird Dir zeigen, wie Du mit Deinen Klienten an den Themen Selbstvertrauen und Selbstwertgefühl arbeiten kannst.

Dieses Seminar richtet sich hauptsächlich an Behandler, teilnehmen kann aber grundsätzlich jeder, der an diesen Themen interessiert ist.
Damien wird an den Momenten Deines Leben arbeiten, in denen Du Deine Kreativität, Dein Selbstvertrauen und Selbstwertgefühl verloren hast. Er kann Dich unterstützen zu schauen, was sich hinter diesen Selbstermächtigungs-Blockaden verbirgt, um sie dann so zu transformieren, dass Du Deine eigene Kraft und Kreativität wirklich in Dein geschäftliches und finanzielles Leben integrieren kannst. Damien wird sozusagen mit Dir als Beispiel arbeiten, um Dir zu zeigen, wie Du dies auf dieselben Themen in der Arbeit mit Deinen Klienten anwenden kannst.

Das Webinar wird live im mitlaufenden Chat übersetzt.


---------------------
Buchhalterischer Hinweis:
---------------------
Die von Sofengo automatisch ausgestellten Rechnungen über bezahlte Webinar-Buchungen enthalten keine Mehrwertsteuer. Wenn Du eine Rechnung mit ausgewiesener Mehrwertsteuer brauchst (nur relevant für Firmenkunden) wende Dich bitte an: anne@damien-wynne.de.