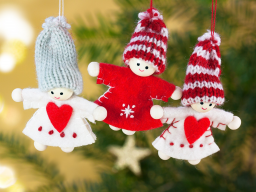 Weihnachten - das Fest der Liebe?
In Body & Soul > Meditation
Video price:

for free

Video duration:

46 minutes

Language:

German
A recording of this webinar is available.
Weihnachten - Eigentlich das Fest der Liebe...und für viele von uns ist es das sicherlich auch. Oft genug sehe ich aber auch, dass wir gestresst sind von den Vorbereitungen, Verpflichtungen, den letzten Arbeitstagen vor den Feiertagen, Verwandschaft, und natürlich auch die Kommerzialisierung der Feiertage...
Egal, ob die Weihnachtszeit eine Freude, der Horror pur oder ob es irgendwo dazwischen ist, wir können alle mehr Liebe und Ruhe in uns finden. Wir werden uns anschauen, wo in unserem System Liebe sitzt and wo wir Blockaden haben, Liebe zuzulassen.
Diese Meditation wird von Energie Arbeit unterstützt.