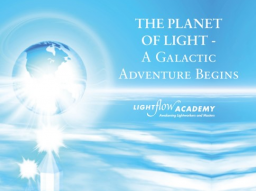 The galactic adventure begins
In Trainings & Workshops > Energetic Consultation
Video price:

35.00 € incl. VAT

Video duration:

2 hours and 8 minutes

Language:

English
A recording of this webinar is available.
"The Planet of Light" - news from the higher dimensions:

Recorded in South Africa at the 3rd Library of Light - the platform for the "Galactic Era & Future Life and Light" .

About the crystal Stream & the 4-year window
New energies are coming in with rapid speed and will continue to do so for the remaining part of the 4-year window of opportunities (until end of 2020). This makes it a perfect time to take the next steps in the "Planet of Light" project. Mother Mary says the coming years will be a galactic adventure with new and exciting spiritual experiences individually and collectively so there is a lot to look forward to. The next steps in "The Planet of Light" project involve to:
- download new energies to the Libraries of Light from the crystal stream that is presently passing the Earth,
- work together with the returning Masters and the Angels of Light from the angelic platform that is very close to us presently,
- connect the existing Libraires of Light to similar ones in the Galaxy,
- build powerful galactic platforms in between the Earth and other planets in her "planetary family",
- take on a greater role as a member of the "Inner Circle" and work from it connect to High Dimensional Beings,
- evolve the Crystal World of Peace.