bis 12.05.19 - Alle Webinare 9.99€ 1 Std.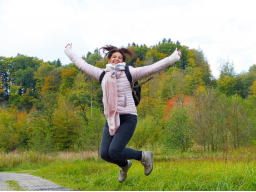 Ist dir deine Gesundheit wichtig?
In Body & Soul > Nutrition
Price:

9.99 € incl. VAT

Number of participants:

maximum 20

Application deadline:

15 minutes before the start

Language:

German
Es gibt nichts wichtigeres als ein gut funktionierendes Immunsystem.

Welche Abwehrtätigkeiten des Körpers sind wichtig für deine Gesundheit?

Dabei spielt dein Darm eine ganz wichtige Rolle für deine körperliche und geistige Gesundheit, die das ganze Jahr über erhalten bleiben soll.
Zudem erfährst du, mit welchen Nahrungsmitteln man sich schützen kann.
Sollte es dich doch erwischt haben, mit Erkältung, Magen-Darm-Grippe, usw.,
dann lade ich Sie herzlich ein zu diesem Webinar. Deine Gesundheit liegt mir am Herzen.

Jede/r Teilnehmer/in erhält zusätzlich noch eine PDF-Datei zum Immunsystem mit wertvollen Infos.


Ich freue mich auf dich.