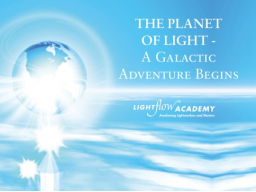 1) Der Beginn des galaktischen Abenteuers - The galactic adventure begins
In Trainings & Workshops > Energetic Consultation
Video price:

25.00 € incl. VAT

Video duration:

2 hours and 4 minutes

Language:

German
A recording of this webinar is available.
(English text below, please scroll down)
Neuigkeiten zum "Planet des Lichts":
Neue Energien strömen mit rasanter Geschwindigkeit herein und dies wird sich während der restlichen Zeit dieses 4-Jahresfensters an Möglichkeiten fortsetzen (bis Ende 2020). Dies macht es zu einem perfekten Zeitrahmen, um die nächsten Schritte innerhalb des Projektes "Planet des Lichts" zu unternehmen. Mutter Maria sagt, dass die kommenden Jahre ein galaktisches Abenteuer sein werden, die neue und spannende spirituelle Erfahrungen sowohl individuell als auch kollektiv mit sich bringen. Es gibt also viel, auf das man sich freuen kann. Die nächsten Schritte im "Planet des Lichts"-Projekt beinhalten:

- lade neue Energien aus jenem kristallinen Strom in die Lichtbibliotheken herunter, der gerade an der Erde vorbeiläuft,
- arbeite mit den wiederkehrenden Meistern und Lichtengeln der Engelsplattform zusammen, welche uns im Augenblick sehr nahe sind,
- verbinde die existierenden Lichtbibliotheken mit ähnlichen Bibliotheken in der Galaxie,
- errichte kraftvolle, galaktische Plattformen zwischen der Erde und anderen Planeten aus ihrer "Planetenfamilie",
- übernimm eine grössere Rolle als Mitglied des "inneren Kreises" und arbeite davon ausgehend und verbinde dich mit hochdimensionalen Wesen
- entwickle die "Kristallwelt des Friedes" weiter.
- - - - - - -
"The Planet of Light" - News about the project:
New energies are coming in with rapid speed and will continue to do so for the remaining part of the 4-year window of opportunities (until end of 2020). This makes it a perfect time to take the next steps in the "Planet of Light" project. Mother Mary says the coming years will be a galactic adventure with new and exciting spiritual experiences individually and collectively so there is a lot to look forward to. The next steps in "The Planet of Light" project involve to:

- download new energies to the Libraries of Light from the crystal stream that is presently passing the Earth,
- work together with the returning Masters and the Angels of Light from the angelic platform that is very close to us presently,
- connect the existing Libraires of Light to similar ones in the Galaxy,
- build powerful galactic platforms in between the Earth and other planets in her "planetary family",
- take on a greater role as a member of the "Inner Circle" and work from it connect to High Dimensional Beings,
- evolve the Crystal World of Peace.