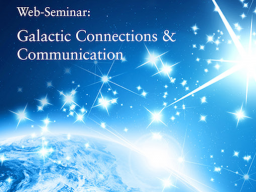 Galactic Connections & Communication - Web-Seminar: Galaktische Kommunikation & Verbindungen
In Trainings & Workshops > Energetic Consultation
Video price:

390.00 € incl. VAT

Video duration:

12 hours and 14 minutes

Language:

English
A recording of this webinar is available.
A 2 Day-Workshop:
A Planet of Light & Mission: Galactic Return Seminar with Cecilia Sifontes. You find more More information is available in the flyer:
https://indd.adobe.com/view/ea93094a-9117-42c5-9419-b76b53dda312
Included in the price: Videos recordings and Mp3 files of all channelings, which will be mailed to you upon registration. If you have registered and not received a download link with MP3s, please send an e-mail to: roland@lightflow.info
Please note: The recordings include translation to German

2 Tages-Web-Seminar: Ein Planet des Lichts & Mission: Galaktische Wiederkehr Seminar mit Cecilia Sifontes. Details siehe Flyer...
https://indd.adobe.com/view/7627b8e7-0cc8-46ff-af1a-62c25217cc3d
Nach dem du das Video-Seminar gemacht hast, mailen wir die die mp3-files der Meditationen zur Vertiefung.