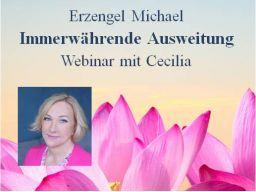 5) Immerwährende Ausweitung / Everlasting Expansion
In Trainings & Workshops > Energetic Consultation
Video price:

25.00 € incl. VAT

Video duration:

2 hours and 4 minutes

Language:

German
A recording of this webinar is available.
(for english text, please scroll down) - Im zweiten Teil der Seminarreihe "Immerwährende Ausweitung" geht es um die "Öffnung der 3. Welle spiritueller Entwicklung". Erfahre was dies für uns bedeutet, welche Verbindungen und Qualitäten auf uns und die Entwicklung der Erde einwirken.

The topic of the second seminar of the serie Everlasting Expansion was the "Opening of the third wave of spiritual evolution". Hear more what it is about, what connections we receive for it and how it will influence the evolution of the earth.