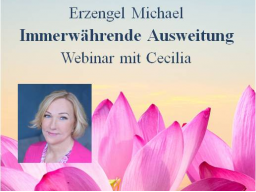 3) Immerwährende Ausweitung / Everlasting Expansion
In Trainings & Workshops > Energetic Consultation
Video price:

25.00 € incl. VAT

Video duration:

2 hours and 1 minute

Language:

German
A recording of this webinar is available.
(for english text, please scroll down) - Erzengel Michael sagt, dass er für die kommenden Jahre eine leitende Rolle unter den geistigen Führern einnehmen wird. Er ist sowohl an unserer Weiterentwicklung und am grösseren Plan für alles Leben sehr engagiert. Nach beinahe 30 Jahren als Channel dachte ich mir, dass ich mittlerweile im Prinzip alles gechannelt habe, was wir in Sachen Licht und Göttlichkeit möglicherweise brauchen können. Erzengel Michael allerdings meint, dass es viel zu erkunden und weitere Ausweitung gibt. Sobald wir dies tun, erschaffen wir Ankerpunkte, durch die Engel und geistige Führer mit uns und unseren kollektiven Energien direkter arbeiten können.
Während wir mehr über die "Immerwährende Ausweitung" lernen, was ein Thema der kommenden Webinare und seiner Seminarserie ist, werden wir auch unsere Empfänglichkeit für Licht, Energie und Bewusstsein erhöhen. Es gibt also definitiv vieles, auf das man sich freuen kann.

In the next webinars Archangel Michael will guide us to expand our light, our love and our consciousness so that we can be an ankerpoint through which the masters and angels can work more deeply, with us and with the collective. So there is a lot more to explore.