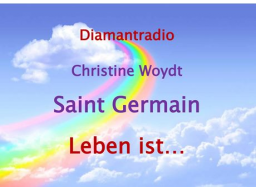 Saint Germain - Leben ist...
In Trainings & Workshops > Other
Language:

German

Video price:

20.00 € incl. VAT

Video duration:

1 hour and 51 minutes
A recording of this webinar is available.
Live-Channel der Diamantschule
Christine Woydt channelt Saint Germain.
In diesem Diamantradio beschreibt Saint Germain, was Leben auf der Erde aus spiritueller Sicht eigentlich bedeutet. Er erklärt auch, wie sich das menschliche Leben jetzt gerade und während des Aufstiegs der Erde in das "Goldene Zeitalter" verändert.