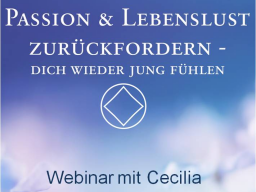 1) PASSION & LEBENSLUST ZURÜCKFORDERN
In Trainings & Workshops > Energetic Consultation
Video price:

25.00 € incl. VAT

Video duration:

2 hours and 21 minutes

Language:

German
A recording of this webinar is available.
(english text please scroll down) - Viele Lichtarbeiter erzählten mir, dass sie einen Verlust an Passion und Lebenslust spüren, obwohl sie der Lichtarbeit vollständig hingegeben sind. Darauf hat Erzengel Michael direkt geantwortet, indem er eine neue Energie vorstellt, die wir dem Kristallaufbau für die "Heilung mit den 70 Strahlen" hinzufügen können. Höre mehr darüber und empfange Empfange spezielle Energien...

Welcome to join this evening's webinar on Sofengo. Archangel Michael will join us and talk about what we can do increase our zest for life and passion for lightwork and other important things in life.