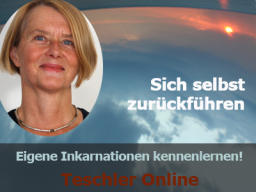 Sich selbst zurückführen - eigene Inkarnationen kennenlernen!
In Body & Soul > Reincarnation
Video price:

19.00 € incl. VAT

Video duration:

1 hour and 21 minutes

Language:

German
A recording of this webinar is available.
Inkarnationen sind Anbindungen an vergangene Leben, die bis heute in uns wirksam sind. Meist prägen sie uns unbewusst, denn in unserer Lebenswelt gibt es keine Kultur des Erinnerns an Inkarnationen.
Dabei ist das Erinnern gar nicht schwer. Es braucht etwas Gefühl für sich selbst und eine Technik, die die Tür zu dem Bewusstsein für vergangene Leben öffnet.

Eine solche Technik möchte ich Euch und Ihnen in diesem Webinar vorstellen und Euch dabei begleiten, durch die Tür zu gehen.

Die Technik wird im vollen Wachbewusstsein, ohne Trance und Hypnose ausgeführt. Sie aktiviert die Erinnerung an die Ereignisse und das gesamte Setting eines vergangenen Lebens und fördert auf sanftem Weg das Bewusstwerden von Inkarnationsanbindungen.