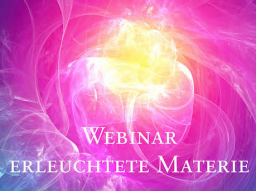 5) Erleuchtete Materie & neue Bewusstseinsformen - Birthing enlightened matter & new forms of consciousness
In Trainings & Workshops > Energetic Consultation
Video price:

25.00 € incl. VAT

Video duration:

2 hours and 24 minutes

Language:

German
A recording of this webinar is available.
(english text please scroll down) Wir Lichtarbeiter sind jetzt dazu eingeladen in die nächste Stufe des Lichts einzutreten. In dieser 2. Welle der spirituellen Entwicklung wird uns fortlaufend angeboten, eine grössere Rolle in der Welt zu übernehmen. Je höher wir als Gruppe unsere Energien anheben können, desto tiefer ist der Einfluss auf unsere Leben und die Welt in der wir leben. Die höheren Lichtkommandos laden uns jetzt ein, unsere Energien jenseits dessen anzuheben, was wir bisher erfahren haben und direkt mit erleuchteter Materie zu arbeiten. Dies ist eine einfachere, einflussreichere und freudvollere Weise alle Aspekte deines Lebens zu beeinflussen, als Materie zu transformieren.
Daher laden wir dich diesem Webinar ein, wo wir weiter die Aspekte der erleuchteten Materie erforschen.

We, the light workers are now invited to step into the next level of light. In this 2nd wave of spiritual evolution we will continuously be offered to take on a greater role for the world. The higher we as a group can lift our energies the deeper the impact in our lives and the world we live in. The Higher Commands of Light now invites us to raise our energies beyond what we explored so far and work directly with enlightened matter. This is an easier, more influential and joyful way to influence all aspects of our lives than to transform matter.
So welcome to join us as we continue explore the aspects of enlightened matter in our next Webinar.