Akademie CoachingforLife von Hannelore Klug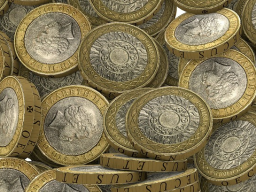 Finanzen - Fülle oder Ebbe
In Trainings & Workshops > Career & Finances
Language:

German

Number of participants:

maximum 20

Minimal attendance:

2

Application deadline:

1 days before the start

Price:

for free
Friday, 11th Nov 2016, 11:00 am - 11:30 am
(GMT +01:00)
The minimum amount of participants is not reached yet!
Geld hat mehr mit Gefühlen zu tun, als auf den ersten Blick ersichtlich ist. Wie sieht es in deiner Beziehung zum Geld aus? Bist du glücklich oder stehst du kurz vor der Scheidung?
Welche Gefühle hast du in Bezug auf Geld?
Was hast du über Geld gelernt?

Was haben Gedanken und Gefühle mit deinem Kontostand zu tun? Und wie kannst du in die Eigenverantwortung gehen und Fülle manifestieren?
Ein Denkansatz aus der Geschichte des Tauschmittel Geldes hin zur Quantenwelt und vielleicht ... ein erfreulicher Denkanstoss.