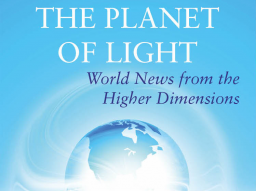 Planet des Lichts: "World News from the Higher Dimensions" (2)
In Trainings & Workshops > Energetic Consultation
Video price:

30.00 € incl. VAT

Video duration:

2 hours and 34 minutes

Language:

German
A recording of this webinar is available.
Das Leben in der 5.Dimension & das Licht der Dreier-Galaxie.
Wie wir in einem planetaren System leben, wo alles Leben irgendwie miteinander verbunden ist, beeinflussen diese 3 Galaxien einander in vielen Weisen. Und gerade im Moment fliesst eine enorme Flut an Informationen, Licht und Energie zu uns, die uns ein komplett neues Set von Möglichkeiten für spirituelle Entwicklung der menschlichen Rasse bringt.
Erfahre an diesem Webinar mehr von den Guides und höre viele Neuigkeiten von den höheren Dimensionen. Sie möchten viele neue Erfahrungen der 5. Dimension mit dir teilen...

The guides have announced that they want to evolve the project The Planet of Light into the next step. Their purpose is to install a permanent news channel to bring through spiritual news and messages from the higher dimensions, to inform what is happening in this world and for this world.
This time the Guides will share lots of news from the higher dimensions and bring you new 5-D experiences. Welcome to join us.