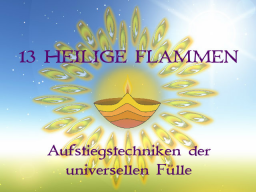 Infowebinar für "13 HEILIGE FLAMMEN® I"
In Trainings & Workshops > Other
Video price:

for free

Video duration:

1 hour and 14 minutes

Language:

German
A recording of this webinar is available.
DER KURS IST MIT SAINT VON LUX

Infowebinar mit Vortrag,Gebeten,Anrufungen & gechannelter Meditation zum Ganztageskurs
"13 HEILIGE FLAMMEN® I"

Die heiligen Flammen sind grundlegende Schöpfungsprinzipien die man auf der ganzen Welt in allen Religionen,Wissenschaften & Philosophien wiederfindet.Selbst die westliche und heutige Esoterik basiert darauf.

In diesem Ganztageswebinar ( mit Pausen) werden diese Flammen beleuchtet und an Dich übertragen.Du erhältst damit kraftvolle und machtvolle Techniken um für dich und andere genau das Leben in universeller Fülle zu erschaffen was du dir wünschst.Du erhältst auch Gebete & Anrufungen um ganz unkompliziert damit arbeiten zu können.

Uraltes Wissen das nun erstmalig einer breiten Öffentlichkeit präsentiert & vermittelt wird sowie zugänglich gemacht wird.

Inklusive Kursunterlagen
-----
Einweihungen
Energiezentren,Strahlen & Flammen Energiearbeit/Bewusstseinsarbeit für sich & andere
Engel,Meister & Elohim
Anrufungen & Gebete
Mineralien
Channelings
Meditationen
usw
-----
Wenn du aus zeitlichen Gründen nicht am Sonntag dabei sein kannst,kannst du dich trotzdem anmelden da das Webinar als Video aufgezeichnet wird.

Der gesamte Kurs erstreckt sich über 4 Teile und danach wirst du fähig sein, du erhältst dann auch eine Lizenz von uns, diesen Kurs auch für andere zu halten ob als Webinar oder Livekurs.