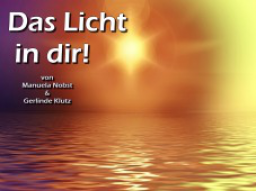 Das Licht in dir!
In Body & Soul > Meditation
Video price:

for free

Video duration:

1 hour and 23 minutes

Language:

German
A recording of this webinar is available.
Gerade in der dunklen Jahreszeit sind wir aufgefordert das Licht in uns selbst zu entdecken. Es ist eine Zeit der Innenschau und des Innehaltens und eine Zeit wo wir unser Licht in uns erkennen dürfen.

Gemeinsam mit Manuela Nobst führe ich dich in den Kreislauf des Lichts und des Erkennens, dass das Christuslicht allgegenwärtig bei und in uns ist.

Es wird mit der Matrix-Welle die Zirbeldrüse aktiviert, so dass du dir auch deines Lichtes mehr bewusst wirst.

Gemeinsam führen wir dich in eine wunderschöne Meditation.

Wir freuen uns auf dich!