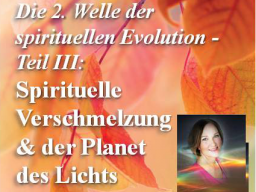 Die 2. Welle (Teil 3): "Spirituelle Verschmelzung & der Planet des Lichts"
In Trainings & Workshops > Energetic Consultation
Video price:

25.00 € incl. VAT

Video duration:

2 hours and 18 minutes

Language:

German
A recording of this webinar is available.
Die 2. Welle der spirituellen Evolution handelt vom Abstieg der Quelle & des Geistes auf die Erde:
Die kommende Zeit ist ein grosses Abenteuer, was die Möglichkeiten der Quelle und des Geistes betrifft, tiefer in die vorhandenen Lichtstrukturen einzutreten, die auf der Erde auf-gebaut wurden.
Und wenn diese grossen Wesen diese Strukturen betreten, werden sie stabilisiert und erhalten mehr Raum. Einen stabilen Raum, aus dem Licht ausgestrahlt und nach aussen projiziert werden kann, in all die Gebiete, in denen es vorgesehen ist, so dass sie beeinflusst werden.
Und wenn diese Strukturen gestärkt werden, sind sie fähig, Engelspräsenzen und die zurückkehrenden Meister kraftvoll zu halten. Auch direkt durch dich und diese Strukturen zu arbeiten. Dies wird der letzte Teil der Energiearbeit für den Aufstieg der Menschheit und allen Lebens auf der Erde sein. Erfahre mehr dazu live aus dem Seminar...