Akademie von Silvia Maria Engl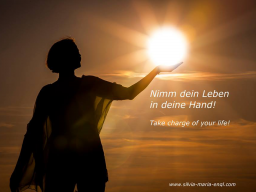 NUR 19:30 Uhr: Entscheide dich glücklich!
In Consultation > Other
Video price:

for free

Video duration:

1 hour and 2 minutes

Language:

German
A recording of this webinar is available.
Achtung, aufgrund eines Fehlers bei der Erstellung sind nun ZWEI Termine angegeben. DAS IST FALSCH!!!
Das Webinar wird um 19.30 Uhr stattfinden. :)

"Ich wünschte, mein Leben wäre besser!"

Manchmal seufzt man das so. Manchmal auch ein wenig öfter. Doch mal ehrlich: Hast du dich jemals schon wirklich bedingungslos für dein ganz eigenes Glück entschieden? Weißt du überhaupt, wie dein ganz persönliches Glück aussieht? Und ist dir klar, was dich wieder und wieder davon abhält, dich für dich und dein Leben zu entscheiden?

In diesem Webinar geht es um die Kraft der Entscheidungen in unserem Leben und was uns dabei hilft, uns endlich dafür, für unser Glück zu entscheiden! Denn oftmals sind die Verhinderungsmuster trickreicher, als man (bewusst) denkt!