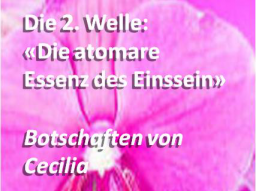 2.Welle, Teil 2-2: "Die atomare Essenz des Einssein" / 2.Wave: "The atomic Essence of Oneness"
In Trainings & Workshops > Energetic Consultation
Video price:

25.00 € incl. VAT

Video duration:

2 hours and 17 minutes

Language:

German
A recording of this webinar is available.
Aktuell: Kuthumi hat das Thema zum 2. Seminar im Januar 2015 am Bodensee enthüllt. Es handelt von den Veränderungen, die wir während der 2. Welle erleben können. Er sagt, das Thema beinhaltet die weitere Entwicklung und das Verständnis der atomaren Essenz des Einsseins. Dies ist jene Energie, welche der Menschheit dabei dienlich sein wird, um das Bewusstsein aufsteigen zu lassen.
Du bist zu diesem Webinar herzlich eingeladen, um mehr über die weitere Entwicklung dieser 2.Welle zu erfahren.

My spiritual guides told me recently that after more than 30 years in the first wave of spiritual evolution and global awakening we have now moved into the second one. Spiritual messages and channelings over the last 30-40 years have often said that our evolution would take place in 3 waves. And now we are in the second one that will keep influencing us until 2040. This second wave actually began towards the end of 2012 and has not really been active until now, when it grows in strength.
You are invited to join this webinar and listen to what the spiritual world has to say about the coming evolution on Earth and how this 2.wave will evolve.