The Work Seminare & Ausbildung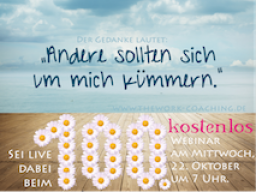 In diesem kostenlosen Webinar werden wir gemeinsam den Gedanken "Andere sollten sich um mich kümmern." mit Hilfe der 4 Fragen, Umkehrungen und Beispielen von The Work of Byron Katie untersuchen. Sei dabei auf dieser Reise zurück zu dir selbst!
Wir starten um 6:50 Uhr mit einem Mediationsvideo und etwas Musik und pünktlich um 7 Uhr geht es los mit der Work und dem Gedanken des Tages.