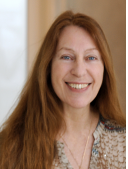 Ruth Bleakley-Thiessen
(22)
The contact option is only available for registered members
About me
7 Schritte um eine Brücke zwischen den Welten aufzubauen und hilfreiches Wissen übermittelt zu bekommen.

Mit Tipps aus zwanzig Jahre Erfahrung, die garantiert nützlich sind, um die Kraft und Stärke dieser Arbeit für sich selber zu nutzen.

Sie lernen wie Sie sich öffnen können, wie Sie die Energie fließen lassen können, die Botschaften verstehen lernen und die Dos und Donts von Channeling.
Offer:
Hier biete ich Webinare

- für Menschen, die gern ihre höhere Führung besser kennen lernen möchten,

- für Frauen, die frei von Blockaden sein möchten

- und für Eltern, die Hilfe brauchen, wann die KInder aus dem Haus sind.
Specialised in:
Coaching in der Journey Methode, besonders zu Themen aus meinen Büchern:

Für Frauen - nach meinem Buch "Woman Rise and Shine".

Für Eltern - Themen rund um die Veränderung, die vorhanden sind, wann die KInder aus dem Haus sind, nach meinem Buch "Flown the Coop".