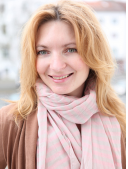 Lifestyle- und Energieberaterin Nina Pister
(17)
The contact option is only available for registered members
About me
Ich bin Heilpraktikerin für Psychotherapie, spirituelle Lebensberaterin, Reiki-Meisterin und Heilerin. Das Leben hat mir so einige Themen geschickt, mit denen ich mich auseinandersetzen durfte, die mir auch bei meiner eigenen persönlichen Entwicklung geholfen habe. Zu den Themen gehören, die Depression, Ängste, Existenzängste, Panikattacken, ADHS bei Kindern, geistige Welt (Engel, Gott, Verstorbene usw.), die Dualseelen-Liebe und die Finanzen. Alle diese Bereiche habe ich erfolgreich gemeistert und biete mein Wissen, meine Erfahrungen weiter.
Ich bin hellsichtig, hellwissend, hellhörig, feinfühlig.
I am searching for:
Menschen, die bereit sind, ihren Lifestyle und ihre Energie ins Positive zu verändern.
Offer:
Coaching und Beratung mit therapeutischen Ansatz für Privatkunden in den Bereichen Partnerschaft, Familie, Kinder, Geld, Beruf, Gesundheit.
Coaching und Beratung für die Business-Class in den Bereichen: Finanzen, Kunden, Mitarbeiter, Geschäftspartner, Lieferanten und Gesundheit.
Beratung mit Auflösung der Probleme.

Meine Methoden:
1. Systemische Familienaufstellungen
2. Systemische Aufstellungen
3. The Work of Byron Katie
4. Reiki
Specialised in:
Dualseele, Paar- und Familienberatung, Stressbewältigung, Persönlichkeitsentwicklung.
Description:
Liebe Teilnehmer und Leser, seit dem 01. September 2015 gibt es die erste Ausgabe des Agolia-Onlinemagazin. Dort finden Sie eine Botschaft der Schönheit, ein Artikel über die Engel und so einiges mehr. Bitte kopieren Sie diesen Link und fügen Sie ihn in den Browser ein. http://issuu.com/ninapister/docs/agolia-onlinemagazin/1?e=18186217/15146727