Akademie von Eva Nitschinger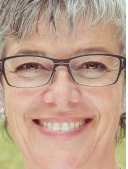 Mag. Eva Nitschinger
(42)
The contact option is only available for registered members
About me
Workerin (The Work von Byron Katie) aus ganzem Herzen.

Psychologin und Lehrcoach, Mediatorin und Traumatherapeutin mit "psychoimaginativen Verfahren" und Familienaufstellen.



Hier nun Webinare mit Eva - Einführungen in The Work von Byron Katie, Weiter- oder Tieferführungen für Fortgeschrittene und solche, die dies werden möchten, Webinare rund um die Themen Beziehung, Stressmanagement, Geld & Arbeit und Selbst-BE-wusst-sein.



Ausserdem biete ich Coachings mit The Work gerne auch per Telefon oder skype an



1 bis 7 tägige Seminare gibt es in diesem Jahr laufend im Saarland, aber auch im Allgäu und in der Toskana.



Alle Infos erhaltet ihr auf meiner homepage www.eva-nitschinger.de und über Videos auf YouTube: "Eva Nitschinger The Work"



Herzlich willkommen bei The Work von Byron Katie und Eva :-)
I am searching for:
andere Therapeuten,die Selbsterfahrung,The Work von Byron Katie,Traumatherapie,Traumabegleitung,EMDR,Brainspotting,Körpertherapie etc. anbieten und sich mit mir vernetzen möchten.
Offer:
The Work von Byron Katie,Coaching,Selbsterfahrung
Specialised in:
Selbsterfahrung, Persönlichkeitsentwicklung, Beziehungsthemen, Geld, Arbeit, Mobbing, Stressmanagement
Description:
Eva ist Psychologin (Mag. - Studium in Österreich, Uni Graz), zertifizierte Begleiterin und Lehrcoach für The Work von Byron Katie (ITW & vtw), Mediatorin, ausgebildet in diversen Traumatherapiemethoden und Familienstellen.