Christine Hofmann - Mach deine Ding!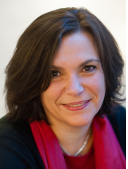 Christine Hofmann
(572)
The contact option is only available for registered members
About me
Raus aus den Hamsterrad! Ich habe es vor Jahren geschafft und zeige wie es jeder schaffen kann!



Für mich gilt das Motto: 
Geht nicht, gibt es nicht. Stolpern und fallen ist erlaubt, dann aber sofort wieder aufstehen und erneut nach den Sternen greifen.



Ich setze das Erfolgswissen der weltweit besten Trainer einfach und nachhaltig um und bringe meine Klienten damit immer wieder auf einen höheren Level.



Herzliche Grüße aus Hamburg



Christine Hofmann
I am searching for:
Menschen, die bereit für positive Veränderungen im Leben sind und die Lösung dafür suchen.

Menschen, die einfacher und schneller mehr im Erfolg im Leben spüren möchten - beruflich, finanziell und privat!
Offer:
Weiter zahlreiche Webinare auf edudip: https://www.edudip.com/academy/christine.hofmann





Mehr Fokus - beruflich, finanziell und privat!



Raus aus den Hamsterrad, durch AUFLÖSEN von Blockaden, negativen Emotionen und Glaubenssätzen. Wir zusammen machen den Weg frei zur persönlichen Selbstbestimmung!



Coaching, Trainings, Seminare, Webinare, Bücher
Specialised in:
Auf Spiritualität & Business!



Auf das Gesetz der Resonanz, "The Law of Attraction", die Erfolgsgesetzte Napoleon Hills, verschiedene Heilmethoden und die Emotionsspirale©.



Direktes und schnelles Auflösen von Blockaden und Hindernisse.