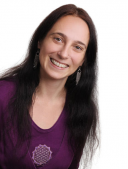 Bharati Corinna Glanert
(1707)
The contact option is only available for registered members
About me
Hallo und Namaste

Ich bin sehr vielseitig interessiert und gebe seit über 14 Jahren mein Wissen gern weiter. Mein eigener spiritueller Weg begann schon in der frühsten Kindheit, denn ich kam sehr früh mit übersinnlichen, paranormalen Erfahrungen und spirituellen Kräften in Kontakt.

Viele spirituelle Erlebnisse konnte ich lange Zeit nicht einschätzen und verstehen. Erst heute – nach vielen Jahren des Studierens – schließt sich der Kreis der Fragen, zu Antworten.



Meine Großmutter und Urgoßmutter hatten übersinnliche Fähigkeiten. Heute weiß ich, dass spirituelle Fähigkeiten sich oft in Familien vererben. Damals fehlte mir allerdings das grundlegende Wissen, um mit diesen außergewöhnlichen spirituellen Fähigkeiten umgehen zu können.

Im Alter von 17 Jahren wurde der innere Ruf, mehr verstehen zu wollen, so laut, dass ich einen regelrechten Seminar- und Ausbildungsbildungsmarathon begann.



Ich besuchte Workshops, Vorträge und Seminare über gesunde Ernährung, Entgiftung des Körpers, Fasten, Rohkost, Fußreflexzonenmassage, Pranaheilung und vieles mehr.

Nach meiner Ausbildung zur Reiki-Lehrein befasste ich mich mit weiteren Bereichen der Energiearbeit wie Bachblüten, Familienaufstellung nach Hellinger und der Arbeit mit Engeln.

Lange Zeit studierte ich zusätzlich die beeindruckende Heilmethode "Holistic Healing System" nach dem philippinischen Heiler Mauro Ambat.



2001 führte mich mein Weg dann nach Südindien, wo ich das Jahrtausende alte vedische Wissen studierte, das bislang nur wenigen Suchenden zugänglich war. Ich wurde außerdem an hochenergetischen Kraftorten in spirituelle Lehren eingeweiht. 9 Jahre lebte ich ausschließlich in Indien, um zu meditieren und mein Studium in vedischem Wissen und Spiritualität fortzusetzen. Diese Zeit hat mich stark geprägt und meine Seele aufs tiefste berührt.



Meine Schwerpunkte heute sind besonders Luzide Träume (Wachträume) und Astralreisen (AKE/OBE).





Hello and Namaste



As a child I had supernatural, paranormal experiences and came into contact with spiritual powers. For many years I was unable to value or understand many of my spiritual experiences. Only today, after many years of studying, the questions have led to answers.



My grandmother and great-grandmother had supernatural abilities. Today I know that spiritual skills are often inherited in families. At this time though I lacked the knowledge which was necessary to be able to deal with these spiritual experiences. When I turned 17, my desire to understand became so strong that I started a marathon of seminars and education. I attended workshops, lectures and seminars on healthy diets and detoxification of the body, fasting, rawism, foot reflexology and pranahealing.



After completing the training as a Reiki teacher, I pursued further areas of energy work like Bach flowers, Hellinger's family constellations and working with angels. I also studied the "Holistic Healing System", an impressive healing method developed by the Filipino healer Mauro Ambat, for a long time. During that time I passed on all knowledge this to future healers in my seminar-house close to Lübeck.



Since 2008 I have been organizing small group tours to special energetic places in southern and northern India. I continue to live in India for several months each year and I spend the rest of the time near the beautiful Lake Constance in Germany where a temple is currently emerging.



I regularly share knowledge on how to activate self-healing powers that activate physical, mental and spiritual cleansing and healing effects. I share this knowledge through individual consultations (in person, via Skype or on the phone), lectures and seminars.



In the energy work I focus on seeing and healing Auras, especially conscious daydreams and astral projections.



I am looking for:

People who are interested in deep spirituality and transformation of their own body and soul.



Offer:

Darkness retreats, Indian healing knowledge like mantras, Yantras and Vaastu (Indian Feng Shui), spiritual knowledge, counselling, Bach flowers counselling.



Specialized in:

Spiritual knowledge (astral projections, lucid dreams, Indian healing knowledge)
I am searching for:
Menschen, die Interesse an tiefer Spiritualität und Transformation des eigenen Körpers und Seele

haben.



Iam looking for:

People who are interested in deep spirituality and transformation of their own body and soul.
Offer:
Dunkelretreats, indisches Heilwissen wie Mantren Yantren sowie Vaastu (indisches Feng Shui), spirituelles Wissen und Beratungen, Lebensberatung, Bachblütenberatung



Offer:

Darkness retreats, Indian healing knowledge like mantras, yantras and Vaastu (Indian Feng Shui), spiritual knowledge, counselling, Bach flowers counselling.
Specialised in:
Spirituelles Wissen (Astralreise, Lucide Träume, indisches Heilwissen)



Specialized in:

Spiritual knowledge (astral projections, lucide dreams, Indian healing knowledge)







Gesunde Lebensweise (Ernährung, Fastenberatung, Rohkost)
Description:
In meinen Webinaren vermittele ich mein über ein Jahrzehnt gesammeltes Wissen zu den Themen Spiritualität und Selbstheilung.

Themen in meinen Webinaren:

- Spiritualität in das Leben integrieren
- Unser Körper- Haus der Seele
- Gesundheit und Spiritualität
- Astralreisen und Astralwelten
- Transformation von Negativität
- Geheimnisse Indiens
- Bewusstseinserweiterung