Tahuti TV & Academica Occulta HexenTV und Schule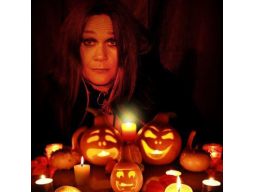 Halloween Spezial - lasst euch Überraschen
In Trainings & Workshops > Emotions & Character
Language:

German

Number of participants:

maximum 40

Minimal attendance:

15

Application deadline:

15 minutes before the start

Price:

for free

Video price:

5.00 €

Video duration:

1 hour and 55 minutes
Sunday, 30th Oct 2016, 10:00 pm - 12:00 am
(GMT +01:00)
The minimum amount of participants is not reached yet!
A recording of this webinar is available.
Samhain Rituale und mehr

Das altkeltische Neujahrsfest wird am Abend des 31. Oktober begangen.

Samhain (irisch) ist das erste der Hochfeste im neuheidnischen keltischen Jahreskreis, das ursprünglich in der Nacht des elften Vollmonds eines Jahres, aber auch zu Neumond gefeiert wurde
Das erste Fest im Jahreskreis ist Samhain. Samhain oder Halloween ist das keltische Neujahr. Die Kelten und auch die Germanen teilten das Jahr früher in Mondmonate ein. Ein Monat begann mit Neumond, dem ersten dünnen Sichelmond nach Schwarzmond, der Mondphase, in der der Mond, aufgrund des Neigungswinkels der Erde, nicht zu sehen ist. So kennzeichnet Samhain das Ende des alten Jahres und den Beginn des neuen. Das Alte stirbt und daraus entsteht etwas Neues. Dieser Tag erinnert uns daran, dass Leben und Tod die zwei Seiten einer Medaille sind: Ohne den Tod gäbe es kein Leben, ohne Leben gäbe es keinen Tod.
Aus diesem Grund gedenkt man an Samhain auch der Toten, besonders der eigenen Ahnen, die ja nach altem Glauben die Familie beschützen und ihr mit ihren Ratschlägen zur Seite stehen.
Dial-in available
Information: How the telephone dial-in works