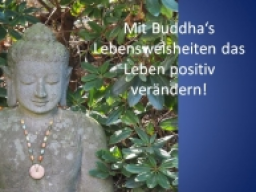 Mit Buddhas Lebensweisheiten das Leben positiv verändern!
In Body & Soul > Creativity & Inspiration
Video price:

for free

Video duration:

1 hour and 20 minutes

Language:

German
A recording of this webinar is available.
- Kurzer Einstieg in das Thema Buddha, Buddhismus

- Die wichtigsten Lebensweisheiten, Zitate Buddhas und wie man diese im Leben praktisch umsetzen kann

- Leben im Hier und Jetzt

- Dankbarkeit

- Vermeidung von Ärger, Zorn

- Meditation der Vier Unermesslichkeiten

- u.v.m.