Michaela Graham - Business und Spirit Academy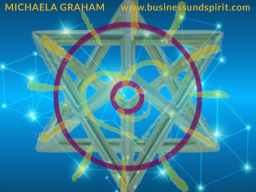 Bleib bei Dir - in bewegten Zeiten.
In Body & Soul > Meditation
Price:

50.00 € incl. VAT

Number of participants:

maximum 1000

Application deadline:

2 days before the start

Language:

German
Ihr Lieben,

alle Zeichen stehen auf Umbruch und Neubeginn.

Nichts ist mehr so, wie es war, der Halt im Aussen bricht immer mehr weg; und an der ein oder anderen Stelle kann es sein, dass die hohen Energiefrequenzen uns ganz ordentlich durchrütteln.

Wenn wir wissen, wie wir in diesen Zeiten bei uns selbst sind und bleiben, können wir die hohen Energien als Katalysator für unsere Träume und Wünsche verwenden.

So öffnen wir also Dein Feld, in dem Du immer wieder zur Ruhe kommst, um zu sehen und Klarheit zu haben, wie der nächste Schritt aussehen kann.

Ich freue mich auf Dich und auf ein Wunder-volles Floating Energy® Feld.