school of living & art - die Kunst des Lebens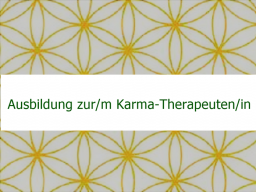 A recording of this webinar is available.
Im Webinar gebe ich Auskünfte über die Jahresausbildung zur/m Karma-Therapeuten/in.

In der Ausbildung werden die unterschiedlichen Aspekte der (Selbst-)Heilung von Körper - Geist - Seele erfasst, vermittelt und trainiert.

Start der Ausbildung ist Ostern 2018.
Das Webinar wird aufgezeichnet, so dass es dauerhaft sichtbar ist.

Es wird Raum geben, individuelle Fragen zu stellen.

Ich werde die zukünftigen Karma-Therapeut*innen dabei begleiten, ihre Vision klar zu formulieren und aus dem Erlernten ihr eigenes Unternehmen zu kreieren und zu manifestieren - als Haupt- oder Nebenberuf.