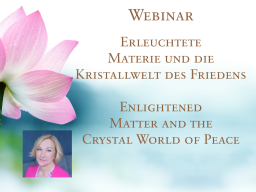 1) Erleuchtete Materie und die Kristallwelt des Friedens - Enlightened Matter and the Crystal World of Peace
In Trainings & Workshops > Energetic Consultation
Video price:

25.00 € incl. VAT

Video duration:

2 hours and 13 minutes

Language:

German
A recording of this webinar is available.
(for english text scroll down please) - Meine geistigen Führer baten mich für den Herbst einige Webinardaten vorzubereiten, weil sie mit uns gerne neue und wundervolle Energien teilen wollen. Bisher haben sie mir noch nicht alle Themen bekannt gegeben. Sie beginnen mit "Erleuchtete Materie und die Kristallwelt des Friedens".

My guides have asked me to prepare webinar dates for in the autumn. They have lots of new and wonderful energies to share with us, however I don't yet know all topics. One will be about "Enlightened Matter and the Crystal World of Peace".