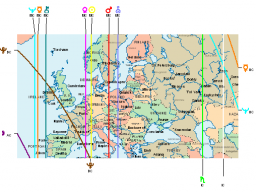 Was sind Astro-Landkarten?
In Trainings & Workshops > Astrology
Video price:

9.90 € incl. VAT

Video duration:

1 hour and 21 minutes

Language:

German
A recording of this webinar is available.
Bei der Astro-Landkarte wird Ihr individuelles Geburtshoroskop auf den Globus projiziert. Dadurch ergeben sich persönliche Planetenlinien. Diese zeigen an, wo Sie mit welchen Herausforderungen rechnen müssen und wo welche Erwartungen gerechtfertigt sind.

Sie kennen das: Sie bereisen eine Gegend und sind dort vom ersten Moment an lebendig und vital, während Sie sich an einem anderen Ort unwohl fühlen, ohne jeweils genau sagen zu können, warum. Dann sind Sie vermutlich in einem astro-geografisch relevanten Gebiet gelandet. Für jeden Menschen halten bestimmte Regionen der Welt besondere Chancen und Risiken bereit. Wer diese Gegenden kennt, kann sie gezielt aufsuchen und nutzen, z.B. für Berufsfindung, Partnerschaft, Vergangenheitsbewältigung oder auch meiden...

Im Webinar erläutere ich die Methodik und zeige konkrete und praktische Beispiele. Um gut folgen zu können sind astrologische Grundkenntnisse (Bedeutung der Planeten) von Vorteil.

Video-Laufzeit: 1 Std. 20 Min.