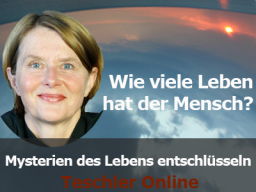 Wie viele Leben hat der Mensch? Die Mysterien des Lebens entschlüsseln...
In Body & Soul > Reincarnation
Minimal attendance:

10

Video price:

10.00 € incl. VAT

Video duration:

1 hour and 14 minutes

Language:

German
A recording of this webinar is available.
Onlineseminar mit Übungen
Die Katze hat sieben Leben, Che Guevara auch, aber wie steht es mit uns? Leben wir einmal oder kommen wir wieder und beginnen das Leben von neuem?

Und falls es Wiedergeburt gibt, wovon wird der Motor der Inkarnationen angestoßen?
Entscheidet der Mensch selbst, ob und wie oft er inkarniert?

Frauke Teschler erläutert diese Fragen vor dem Hintergrund unzähliger Rückführungen in frühere Leben.
Sie gibt den Teilnehmer/innen einen Einblick in die gesammelten Erfahrungen und Anstöße, um über die Relevanz von Inkarnationen für das heutige Leben neu zu verstehen.