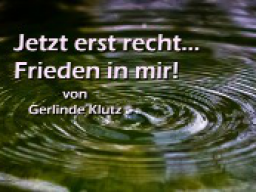 Jetzt erst recht... Frieden in mir!
In Body & Soul > Meditation
Video price:

for free

Video duration:

1 hour and 20 minutes

Language:

German
A recording of this webinar is available.
Das Außen ist chaotisch, schuldige werden gesucht und auch gefunden, aber ist das wirklich so? Welche Kriege führe ich in meinem Inneren, bin ich wirklich wahrhaftig? Erlaube ich, dass das Außen mich aus meiner Ruhe bringt, oder bin ich zentriert in mir?

Ein Webinar voll Fragen an mein innerstes und innerer Reflektion.

Ich unterstütze dich mit der Matrix-Welle und einer wundervollen Meditation.

Du bist herzlich eingeladen, ich freue mich auf dich!