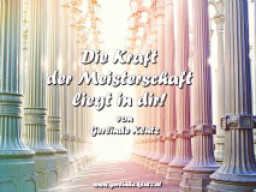 Die Kraft der Meisterschaft liegt in dir!
In Body & Soul > Meditation
Video price:

for free

Video duration:

1 hour and 14 minutes

Language:

German
A recording of this webinar is available.
Dies ist ein Webinar zur aktuellen Zeitqualität, vieles ist in unserem inneren im Aufruhr, Ängste, Begrenzungen zeigen sich und wollen integriert und angenommen werden.

Wir erhalten von der geistigen Welt Botschaften, was nun für uns wichtig ist, wie wir unsere Kraft annehmen und leben können.

Mit der Matrix-Welle werden blockierende Urmuster - so es in Gottes Plan ist - gelöst, so dass du dich in deiner Kraft erfahren kannst.

In einer Meditation darfst du dich und dein wahres Sein erkennen.